By Roy Billington


On Saturday night, former Cage Warriors' two-division champion Conor McGregor faces his biggest challenge to date, as he is paired up against former X-1 champion Max Holloway on the undercard of UFC Fight Night 26 on Fox Sports 1. This fight features two fighters who have massive futures ahead of them, and both will be eager to impress fans in this highly-publicised bout. In this piece I will break down each fighter, as well as where the fight will be won and lost.

Conor McGregor

"Notorious" Conor McGregor grew up in Crumlin, a Dublin suburb often associated with gangland activity. After winning a junior championship in Dublin, he decided to take up mixed martial arts full time, and turned pro after winning an amateur fight by KO in less than two minutes. Now training at Dublin's Straight Blast Gym under BJJ wizard John Kavanagh, McGregor has learned to channel his aggression, and has become a relentless finisher. His teammates include former Cage Warriors champ Chris "The Killing" Fields and the very promising Cathal Pendred, who is about to try out for The Ultimate Fighter 19.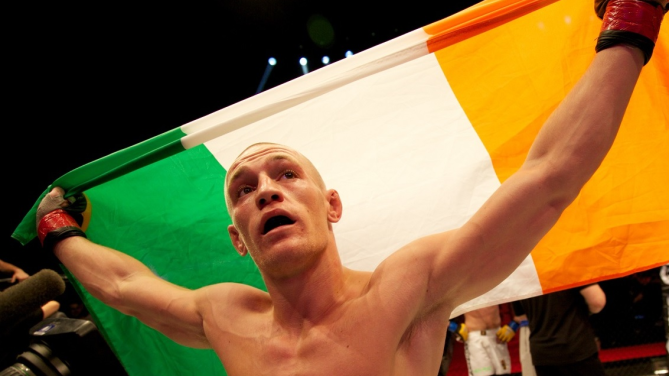 Since McGregor's UFC debut back in April at UFC on FUEL TV 9, where he knocked out Marcus Brimage in devastating fashion, he has garnered support from the masses, especially in his native Ireland, where he has brought notoriety to a sport that remains largely unknown by the general public. He has appeared on national TV shows on a number of occasions, and his face seems to have become a permanent fixture in the tabloid news papers.

Skillswise, McGregor is ever-evolving -- his mantra since Day One has been, "Stay ready so I don't have to get ready." A tireless worker in the gym, he is always improving. McGregor's forte is his boxing, and after enjoying success as an amateur boxer, he learned to translate his crisp striking to MMA. Since his debut he's dominated all comers on the feet. In recent years, McGregor has added kicks to his arsenal -- specifically a front kick to keep his opponent at distance. While]known primarily as a striker, he has earned a purple belt in BJJ from his mentor John Kavanagh, which means he will be very hard to finish if the fight hits the canvas


Max Holloway


After racking up four fights in two years on the Hawaiian fight circuit, Max Holloway was given an opportunity he couldn't refuse, as at he was offered a bout at UFC 143 with Top 10 featherweight Dustin "The Diamond" Poirier . Although Poirier defeated Holloway in the first round, the then 20-year-old fighter impressed many onlookers with his tenacity and was immediately pegged as a prospect.

In his next bout, he faced Pat Schilling and looked great; he was dominant from the opening bell and earned a decision victory. Next up Holloway faced Justin Lawrence, who was fresh of an impressive stint on The Ultimate Fighter. Many had expected Lawrence to be victorious, but this proved to be Holloway's true coming out party, as he dominated Lawrence in the fight, eventually dropping him with a knee and finishing him off with some ground and pound.

Holloway's latest two fights, however, have been unusual to say the least. First off, he faced Leonard Garcia at UFC 155, and after a hard-fought three rounds, many thought Garcia had done enough to get the nod, but the judges saw it differently, and named Holloway victorious. Then funnily enough, in his last bout against Dennis Bermudez, the majority of pundits scored the bout 29- 28 in favor of Holloway, but again the judges didn't agree with the masses, awarding Bermudez the decision.

Skillswise, Holloway is a pressure fighter at heart, and does his best work when coming forward. His grappling is improving; against Bermudez he showed off some improved wrestling, and he's always dangerous on the ground, specifically from his highly active guard.

The Verdict

Expect McGregor to come out early with his hand down, throwing jabs and front kicks, trying to bait Holloway into overcommitting. And when he does, look for McGregor to counter with power. Many see this being an easy fight for the Irishman, but I don't. Holloway is a difficult challenge for McGregor, and to date, the best striker he's faced. With that being said, I see McGregor scoring often on the feet, and I believe he'll wind up winning a dominant decision, unless somehow Holloway can manage to put McGregor against the cage for three rounds, which is unlikely.


**********
UFC Fight Night 26
• Conor McGregor vs. Max Holloway
Click the stars to rate your anticipation for this fight.
**********
UFC Fight Night 26: Shogun vs. Sonnen is due to take place on August 17, 2013 at the TD Garden in Boston, Massachusetts.

Click the stars to rate how good you think UFC Fight Night 26 will be.