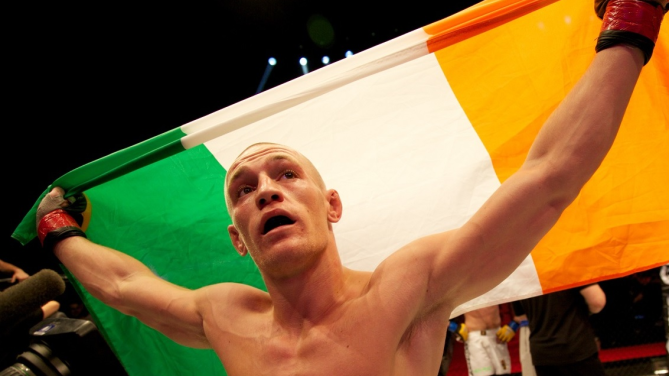 By Roy Billington


"Notorious" by name and by nature, Dublin's own Conor McGregor makes his UFC debut this Saturday night at UFC on Fuel TV 9 against Marcus Brimage, who as of late has made a name for himself by ending the hype trains of highly rated prospects. Will McGregor suffer the same fate on Saturday night? Or will he introduce himself to UFC fans in impactful fashion? This piece will break down both fighters in Saturday's big fight, as well as where the fight will likely be won and lost.

Brimage is known for his childlike demeanour, but don't be fooled -- "The Bama Beast" is a supremely talented individual who is particularly known for his frenetic pace and for coming out on top from underdog status. On Saturday he will once again be viewed as the underdog by many when he faces Dubliner Conor McGregor.
Brimage started his mixed martial arts career back in 2006 when he and noted striker Chris Connelly opened up Spartan Fitness in Alabama, and soon after his first inroads into MMA, Marcus had amassed a staggering amateur record of 10-0, a record which garnered him a lot of attention from MMA insiders, who awaited his pro career with anticipation.
After a winning start to his pro career, Brimage suffered an injury. This would become a recurring theme for his early career, as for the first 3 years of his pro career he could never quite pick up any momentum; every victory was marred by injury. Twice he was selected to appear on "The Ultimate Fighter," and the injury bug pulled him from the show each time, but finally in 2010 his dream came true, and he got to appear on The Ultimate Fighter 14. Although his time in the house didn't pave the way to a fairy tale ending, since the show concluded Brimage has remained unbeaten in the UFC,
beating feared striker
Maximo Blanco
as well as one of the
featherweight division's top prospects
in
Jimy Hettes
.
The keys to victory for Brimage are pretty simple: he must not give McGregor enough time to set up his strikes, or he is in for an early night; Brimage needs to utilize his wrestling.
Conor McGregor's mantra has long been "stay ready so you don't have to get ready," and McGregor's recent performances sure attest that that he is ready. Conor McGregor grew up on an estate in the Dublin suburb of Crumlin, which is often associated with gangland activity. After "Notorious" won a junior championship in Dublin, he decided to take up mixed martial arts full time, and after winning an amateur fight by KO in less than 2 minutes, he soon turned pro. He now trains at Dublin's
Straight Blast Gym
under BJJ wizard
John Kavanagh
. Under Kavanagh's training, McGregor has learned to channel his aggression and become a relentless finisher. His teammates include former Cage Warriors champ
Chris "The Killing" Fields
and the very promising
Cathal Pendred.
SBG as of late has become Europe's number one gym, as the international success of McGregor and teammates Cathal Pendred,
Gunnar Nelson
, and Paddy Holohan has led to a huge rise in popularity of the sport in Ireland, and McGregor carries the hopes of the fighting Irish with him into the Octagon on Saturday night.
In his last outing, "Notorious" moved up in weight to fight for his second
Cage Warriors
title against Ivan Buchinger, and his performance was truly a joy to behold. From the get-go McGregor controlled every exchange and effortlessly landed blow after blow, which finally culminated in a knockout worthy of a UFC main event. It was only a matter of time before the UFC came calling, and since then McGregor has made it clear that he sees himself on the fast track to the UFC featherweight title.
The Verdict
I see this as a real fight for the fans, as both McGregor and Brimage put on exciting fights, and Saturday night will be no different. Brimage will look to counter McGregor, which will work to his detriment, as McGregor's confidence is truly unparalleled at present, and he will look to make a statement in this fight. Look for McGregor to land his
Nick Diaz
-esque one-twos early on, before surviving a few takedown attempts from Brimage, and scoring a knockout in round 2.
If, as I predict, McGregor is successful in his Octagon debut, expect the Irishman to become a fan favourite in the UFC -- his mic skills are immaculate, and his pre-fight prophecies are usually fulfilled. All that remains is the fight, and I for one cannot wait to see it.
UFC on FUEL TV 9 is due to take place on April 6, 2013 at the Ericsson Globe Arena in Stockholm, Sweden.

Click the stars to rate how good you think UFC on FUEL TV 9 will be.