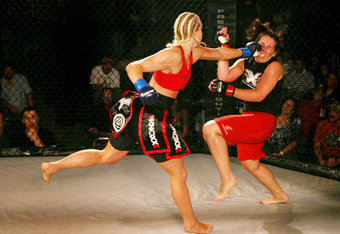 Elaina "Beef" Maxwell
is back and better than ever. After a two year hiatus, Maxwell defeated an overmatched Lizbeth Carreiro via TKO in "Freestyle Cagefighting 44". Her next fight is against highly touted
Alexis Davis
in "Raging Wolf IX" on August 28th.
This will be Maxwell's second fight in five weeks and she isn't taking any easy fights. Alexis Davis is the current Raging Wolf bantamweight champion as and is ranked #8 in the world according to the Unified Women's MMA rankings. But Maxwell is up for the challenge.

"You only have a small window to do this. Why wait any longer? I'm not getting any younger. So let's do this! I'm also fighting the hometown girl so I can't just go over there and win by split, I gotta go over there and take it".

Although, Maxwell is not looking beyond her fight with Davis, she wouldn't mind getting back in the mix with Strikeforce. She started her amateur kickboxing career with them and fought Gina Carano in Strikeforce's first-ever female bout on December, 8 2006.

"I want to take it one fight at a time. Hopefully Scott will give me a call afterwards but if he doesn't Raging Wolf is going to keep me busy. But after my fight I think I'm going to take a little vacation with the boyfriend and do something fun".

"I've been on the ball for a while. Since I moved back from Vegas I haven't stopped training and taking a break to actually breathe. I didn't even come up for air between these camps."

"I just want to get back to where I was before I took two years off".

Maxwell trained under Cung Le for many years but left for Las Vegas for a change of scenery in 2008. Although it was a great experience, it didn't turn out quite as she would have liked.

"I went to Vegas thinking that it was the "Mecca" of MMA and I was going to jump right in to my fight career but Vegas isn't really the best place to train. If you're making $50,000 a fight and can afford to buy a house it's great. Read Todd Duffee's article in Muscle & Fitness and you'll know what I'm talking about. When I read the article I was like wow! that's exactly how I feel."

"I trained briefly with Todd at Extreme Couture and at Tapout and made my rounds. I did my gym shopping in Vegas to find the best place but I'm back in the Bay Area now so it's all good."

Maxwell currently trains at CSA gym in Dublin, Ca. She is able to do what she loves thanks to loyal sponsors such as Pro Fight Network, Tussle Fight Gear, Combat Sports Academy, Gracie Fighter Jiu Jitsu, & Universal Fight Network.